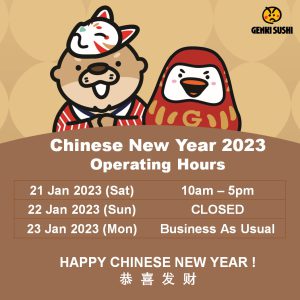 Happy Chinese New Year ! 🧧🧧
Genki Sushi wishes you and your family lots of happiness and prosperity on the year of the rabbit🐰!
Here is our Chinese New Year Operating Hours:
Eve of CNY, 21st Jan 2023 (Sat): 10am – 5pm
1st day of CNY, 22nd Jan 2023 (Sun): We are closed
2nd day of CNY, 23rd Jan 2023 (Mon): Business as Usual
Remember to pre-order your Genki Yee Sang🥗 and Sushi Platters🍣 in advance!